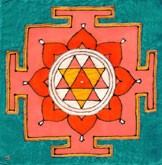 Negative forces are self-destructive and may seem very powerful when they are united, while the Divine Forces are constructive, but may seem slow and inefficient when they are scattered. This appears to create imbalance in the phenomenal world.
#101D Durga - $55
This is a Yantra for Durga, the Invincible.
Durga represents the unified symbol of all divine forces.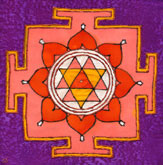 When this happens, Durga as the Divine Mother, may be envisioned as a bringing together of the scattered Light so that balance may be restored, and negative energy may be transformed into positive energy.